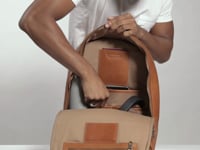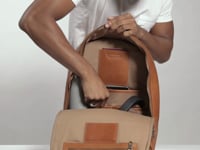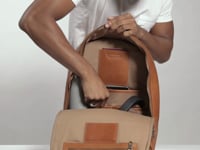 Description
Details
Dimensions
Our flagship Atlas Backpack was inspired by our travel between the US and Ethiopia, a journey of over 9,000 miles one-way. The Atlas is the ideal backpack that goes with you on every work venture or weekend adventure. Created for optimal functionality, with an exterior foam-padded laptop compartment and five interior pockets to keep your life organized. The sleek design matched with our premium full grain Ethiopian leather makes the Atlas a fundamental piece to your collection and built to last.

• Premium full-grain Ethiopian Leather.
• Natural brass zip closure to two large compartments accommodates a laptop up to 15".
• Separate exterior zippered and padded computer compartment (fits up to a 15" laptop)
• Durable hardware in antique brass or matte black to make for a perfect complement to premium leather
• 2 adjustable padded leather straps for backpack carry with hardware trim
• Interior features full grain leather passport pocket, large slip pocket, and 2 smaller slip pockets (designed to carry a pocket size Moleskine sketchbook, iPad, and business cards)
• Cotton lined interior with leather trim.
• Internal zipper pocket with leather trim for cables and smaller items.
• Exterior front zip compartment.
• 18"H x 12"W x 6"D
• Adjustable Straps 18-35"
• Approximately 2 lbs.
Certified B Corp
What's a B-Corp?
A B-Corporation is a for-profit business that uses commerce to contribute to solving social and environmental problems.
How do you become a B-Corp?
It's a rigorous process with assessments and inspections to make sure we're upholding the highest standard of sustainability. Everything from production processes, to shipping practices, to how we treat our employees. We get reassessed and re-scored every 2 years, and our score has gone up with every re-test!
Why are you a B-Corp?
Well, our mission is the same as it was before becoming a B-Corp! But with certified status, you don't have to take our word for it. We're extremely proud to be part of the B-Corp community because it helps you know that we're doing good, helps keep us accountable in every department, and gives us the opportunity to educate other brands on ways they can make their impact even more positive.
So you're "just" a B-Corp? Any special awards or anything?
We're so glad you asked! As it happens, we were recognized as "Best for the World 2021" for Community Impact, out of over 4,000+ B-Corps. So from the most sustainable, impactful brands across the planet, we're officially among the best. Learn more about our impact here.
Sustainable Leather
Sourced Responsibly
Our leather is sourced from independent cattle ranches local to our Addis Ababa factory. This helps to reduce the impact of transportation and help drive economic growth in Ethiopia, as well as induce demand for more sustainable ranching practices. Our end-of-life leather is sourced primarily from food livestock, allowing byproducts to be repurposed for many years to come.
Full-Grain, Always
Many leather brands market their products as "premium" or "genuine" leather, which sounds nice, but it's no full-grain. Where their materials are often sanded, thinned, and weakened for a leather that's cheaper and easier to work with, Parker Clay leather is as durable and beautiful as nature intended. Our process leverages raw, unaltered leather, natural dyes, and water conservation practices.
Guaranteed For Life
We believe that fashion shouldn't be fast. Rather than buying into trends or fads, we recognize the value in building goods the right way, appreciating them for life, and passing them on to the next generation – no recycling or upcycling needed. As such, we're proud to stand behind our products with the Built For Life Guarantee. Anytime your bag needs some TLC, send it our way for a repair.