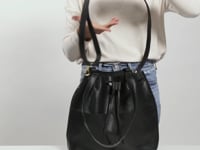 Description
Details
Dimensions
Meet our first bucket bag, designed in collaboration with Whoopi Goldberg, a lady who keeps us entertained and reminds us of the beauty and importance of family. The Emma Bucket Bag is highly versatile, ready for use by day or by night and convertible from a crossbody to a shoulder bag in a snap.
Named for Whoopi's mother,  Emma Johnson, the Emma Bucket Bag is a way to celebrate her mother's life and honor the special relationship that exists between mothers and daughters worldwide.  Emma Johnson was a nurse and teacher, a "strong and wise woman" who raised Whoopi and her brother as a single mother.
• Crafted from premium Ethiopian full grain leather
• Unlined interior
• Two exterior front pockets
• Natural brass (gold color) interior zipper pocket
• Features premium interior natural brass (gold color) zipper pocket
• Includes adjustable, removable crossbody strap and two shoulder straps
• Features two pull, double cord drawstrings
• Please note that since leather is a natural material, each product can have slight color, texture, and grain variations
• Due to the nature and saturation of the hide, our clay red leather may transfer some color onto lighter items of clothing during your first few weeks of wear. Please be mindful of how you wear your clay red bag during the breaking in process.
• 12" L x 5" W x 12" H
• 13" handle drop
• 56"-30" crossbody strap
• Approximately 2 lbs.